Mobile Elevating Work Platforms - MEWPS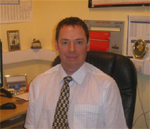 Mobile elevating work platforms (MEWPs) can provide a safe way of working at height, by allowing the worker to reach the task quickly and easily. They have guard rails and toe boards which prevent a person falling and can be used internally and externally.
In essence they provide you with a safe platform for all kinds of work at height for: decorating, installing posters or signs and of course window cleaning.
MEWPs include cherry pickers, scissor lifts and vehicle-mounted booms. If you are considering the use of a MEWP why not let us help you to:
choose the right MEWP for the job
identify and manage the risks involved with working from MEWPs
Things to consider if you are thinking of using a MEWP look at the following questions.
Height - How high is the job from the ground?
Application - Do you have the appropriate MEWP for the job? (If you are not sure, check with the hirer or manufacturer.)
Conditions - What are the ground conditions like - is there a risk of the MEWP becoming unstable or overturning?
Operators - Are the people using the MEWP trained, competent and fit to do so?
Obstructions - Could the MEWP be caught on any protruding features or overhead hazards, e.g. steelwork, tree branches or power lines? Is there passing traffic, and if so, what do you need to do to prevent collisions?
Restraint - Do you need to use either work restraint (to prevent people climbing out of the MEWP) or a fall arrest system (which will stop a person hitting the ground if they fall out)? Allowing people to climb out of the basket is not normally recommended - do you need to do this as part of the job?
Checks - Has the MEWP been examined, inspected and maintained as required by the manufacturer's instructions and daily checks carried out?
General Statement of Health & Safety Policy
Under the Health & Safety at Work Act (1974), Hi-Flo H20 Ltd and its employees have general legal provisions imposed upon them.
It is the policy of this company to comply with the terms of the Health & Safety at Work Act, and with the safe working practices outlined in associated Health & Safety Regulations and Health & Safety Executive guidelines.
Hi-Flo H20 Ltd will, as far as is reasonably practical, provide:
A safe place of work, with safe means of access & egress.
A safe working environment; with safe tools, plant, equipment and safe systems of work.
Safe use, handling, storage & transportation of articles & substances.
Instruction & training to staff in known safety hazards, safe systems of work and the use of any safety systems or safety equipment provided.
An organisational structure that ensures that this Heath & Safety Policy will be implemented in full; and updated as appropriate.
A written statement of the company's Health & Safety Policy, safety responsibilities & organisation.
Our Health & Safety objective is to assess all significant risks to its employees (and to other visitors to our premises), and to develop & implement proactive measures aimed at eliminating those risks, or at least minimising them as far as is reasonably practical.
Why not contact us today on - 02392 386609 Or Email Us