Reverse Osmosis - Pure Water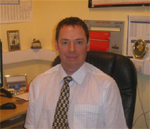 Our pure water treatment system utilises Reverse Osmosis and mixed bed De-mineralising Resin to produce 100% pure, laboratory grade water.
The nature of de-mineralised water is to strive to return to its natural impure state by actively absorbing all dirt, chemicals and minerals it comes across.
When used for Window Cleaning, provided the correct technique has been used the final rinse water dries to a perfect finish. With continued use the window isn't just clean, its left totally sterile. As no chemicals or detergents are used, the process is environmentally friendly.

Tap water isn't just hydrogen and oxygen, but in fact contains many other chemical elements, such as calcium, chlorine, iron and copper.
If you wash windows with untreated tap water and leave it to dry, once the hydrogen and oxygen have evaporated, these chemicals and mineral residues are left on the glass leaving streaks and other water marks.
We are so confident of the purity of our water that we supply other window cleaners and other companies.
Hi-Flo H2O - Pure water suppliers
We hold up to 10,000 litres of pure window cleaning water at any one time and can fill a 1000 litre vehicle mounted tank in under 10 minutes.

Benefits include:
•  Instant fill-allowing time to finish jobs.
•  Cost effective-save on resin, R O maintenance, non-functional operatives, time
filling at work base etc.
•  Offload pressures from water board for meters, charges, droughts etc, (specifically
when operating from home with no water meter!)
•  No wastage.
• All major credit/debit cards accepted (£10.00 minimum charge) and account                                                               
facilities available upon request.
• Open Monday- Friday 07.30-17.00
Charges are £ 3.00 + VAT per 100 litres.
Call us to order your pure RO water.
Why not contact us today on - 02392 386609 Or Email Us