Reach & Wash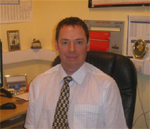 It's no exaggeration to say that the Reach & Wash System has completely transformed the window cleaning industry.
Due to the recent changes in the working at height directive, the Health & Safety Executive recognises Waterfed poles are an excellent way to comply with the new government regulations for window cleaners.

As window cleaning is a hazardous activity, and the obvious risk of falling from height using ladders, Hi-Flo H20 Ltd use the "Reach & Wash" Waterfed pole system & have been using this system since 2002. By using this method it eliminates the risk of an injury or fatality as a direct result of falling from height.

On arrival at your site we will already have hundreds of litres or purified water in our vehicles available for our daily tasks. We are so confident in the purity of our water we even sell to other window cleaning companies!

A hosepipe supplies glass & carbon fibre poles which telescope up to 60ft & delivers pure water to the window. The brush head of the pole is placed onto the glass and the movement of the pole will agitate and loosen any surface dirt, before finally being rinsed off.

The nature of pure water is to strive to return to its former impure state by actively absorbing all the dirt, chemicals & minerals it comes across leaving the glass sparkling & spotfree.

Ladders & high access equipment can be eliminated, reducing cost whilst ensuring safety. Enjoy the assurance that comes with knowing that some accidents simply can't happen.

For a FREE demonstration please contact us today on - 02392 386609 Or Email Us

The Advantages of Waterfed Pole
·  Fully complies with health & safety regulations
·  Cleans windows, atria, paneling, cladding, signs, canopies and facia.
·  Operates work from the safety of the ground, eliminating the need for ladders & high access equipment.
·  Reaches previously inaccessible windows with ease.
·  Reaches windows above the sensitive ground such as lawns and flowerbeds.
·  Environmentally friendly - no chemicals or detergents are used, just pure water.
·  Cleans frames at the same time as glass
·  Reduced disturbance to building occupants and maintains privacy.

Ensure that your company is operating within the law and choose Hi-Flo H20 Ltd - there really is no safer way to clean high-level windows.
Why not contact us today on - 02392 386609 Or Email Us